The GH-IGF-SST system in hepatocellular carcinoma: biological and molecular pathogenetic mechanisms and therapeutic targets
Infectious Agents and Cancer
2014
9:27
Received: 14 November 2012
Accepted: 23 June 2014
Published: 20 August 2014
Abstract
Hepatocellular carcinoma (HCC) is the sixth most common malignancy worldwide. Different signalling pathways have been identified to be implicated in the pathogenesis of HCC; among these, GH, IGF and somatostatin (SST) pathways have emerged as some of the major pathways implicated in the development of HCC. Physiologically, GH-IGF-SST system plays a crucial role in liver growth and development since GH induces IGF1 and IGF2 secretion and the expression of their receptors, involved in hepatocytes cell proliferation, differentiation and metabolism. On the other hand, somatostatin receptors (SSTRs) are exclusively present on the biliary tract. Importantly, the GH-IGF-SST system components have been indicated as regulators of hepatocarcinogenesis. Reduction of GH binding affinity to GH receptor, decreased serum IGF1 and increased serum IGF2 production, overexpression of IGF1 receptor, loss of function of IGF2 receptor and appearance of SSTRs are frequently observed in human HCC. In particular, recently, many studies have evaluated the correlation between increased levels of IGF1 receptors and liver diseases and the oncogenic role of IGF2 and its involvement in angiogenesis, migration and, consequently, in tumour progression. SST directly or indirectly influences tumour growth and development through the inhibition of cell proliferation and secretion and induction of apoptosis, even though SST role in hepatocarcinogenesis is still opened to argument.
This review addresses the present evidences suggesting a role of the GH-IGF-SST system in the development and progression of HCC, and describes the therapeutic perspectives, based on the targeting of GH-IGF-SST system, which have been hypothesised and experimented in HCC.
Keywords
GH-IGF1 axisSomatostatinSomatostatin receptorsNormal liverHepatocarcinogenesisHepatocarcinoma
Introduction
Hepatocellular carcinoma (HCC) represents the sixth most common cancer and the third leading cause of mortality for malignancy in the world[1]. HCC is the predominant type of hepatic carcinoma, accounting for 90% of liver primary malignant tumours[1–3]. The Barcelona Clınic Liver Cancer (BCLC) staging system is recommended by European Association for the Study of the Liver (EASL) and the European Organisation for Research and Treatment of Cancer (EORTC) for prognostic prediction and treatment allocation of HCC[1, 4, 5]. BCLC staging classification is based on variables related to tumour stage (number and diameter of tumour nodules and presence of portal invasion and metastasis), liver function (Child-Pugh class) and general health status (performance status test), that define five groups of patients with HCC (0, A, B, C and D) and link these groups to a specific treatment strategy and a different prognosis[1, 4, 5]. In particular, according to BCLC staging system, the "stage 0" includes patients with very early HCC; the "stage A" patients with early HCC; the "stage B" patients with intermediate HCC; the "stage C" patients with advanced HCC and the "stage D" patients with endstage disease[1, 4, 5].
Hepatocarcinogenesis is a multistep process evolving from normal liver, through chronic hepatitis and/or cirrhosis and formation of dysplastic nodules, to HCC. Indeed, HCC rarely arises in non-cirrhotic liver (about 20%), while it often develops on pre-existing cirrhosis (about 80%), primarily due to hepatitis B virus (HBV) or C virus (HCV) infection or alcohol consumption. The aetiological factors (virus infection, alcohol consumption, genetic disorders of metabolism, hereditary hemochromatosis, tobacco smoking, aflatoxins, drugs and radiations) may vary depending on ethnic group or geographic area of the patients affected by this malignancy[
1
,
6
]. These evidences suggest that several pathological agents, able to induce liver damage, can stimulate an inflammatory and hyperproliferative response in hepatocytes by activating and/or inhibiting several cell molecular pathways. Liver damage, chronic inflammation and the hyperproliferative hepatocytes status predispose to the accumulation of genetic and epigenetic alterations that determine the development of HCC[
6
–
15
]. The types and the sequence of the occurrence of genetic and molecular alterations associated with hepatocarcinogenesis have not been fully clarified and they seem to be highly tumour-specific[
16
]. The commonly altered pathways in HCC include: IGF (in particular IGF2 and downstream mediators, as mTOR), p16/pRb (DNA repair pathway), p53/p21 (cell-cycle pathway), β-catenin, and trasforming growth factor (TGF)[
6
–
18
]. A schematic model of hepatocarcinogenesis is presented in Figure
1
.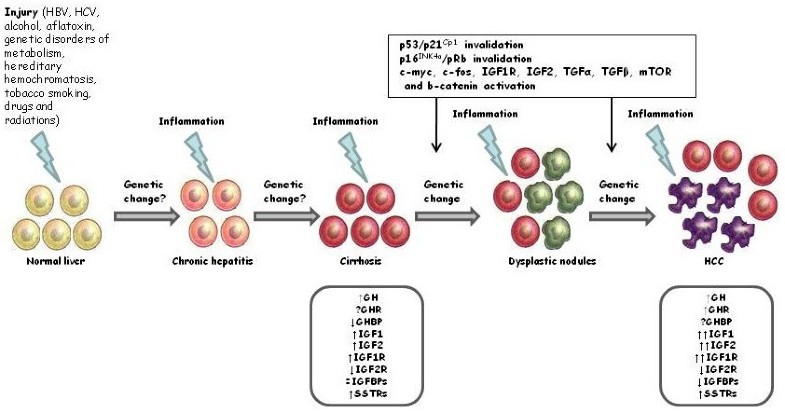 The GH-IGF-SST system is an endocrine system consisting of growth hormone (GH), insulin-like growth factors (IGF1 and IGF2) and the relative associated carrier proteins and receptors, and somatostatin (SST), controlling human prenatal development and postnatal growth by regulating cell proliferation, differentiation and metabolism[19]. The liver occupies a central role in this endocrine system, because it produces many of its components and it is also a target of their actions[20]. Therefore, liver injury affects the function of GH-IGF-SST system and, in turn, the alteration of GH-IGF-SST system may play a role in the development of liver diseases, such as cirrhosis, fibrosis and HCC[21].
The GH-IGF-SST system seems to play a role in the development of various malignancies, including HCC. Indeed, in several types of cancer, GH-IGF1 axis has been demonstrated to affect tumour cell proliferation, apoptosis and invasiveness, and tumour angiogenesis[22, 23]. Changes in the expression pattern of GH-IGF axis have been reported in HCC, suggesting that this system plays a role in hepatocarcinogenesis[24]. Additionally, the activation of somatostatin receptors (SSTRs) may elicitate antitumoural effects through both direct (inhibition of cell proliferation and induction of apoptosis) and indirect (inhibition of cell proliferation and angiogenesis through the suppression of growth factors and growth-promoting hormones, such as GH and IGF1) mechanisms[25, 26]. HCC has been reported to express SSTRs, although literature data about the antineoplastic effects of the somatostatin analogues (SA) in HCC are still controversial[27, 28].
The aim of this review is to analyse the role of GH-IGF-SST system in the development of HCC, mainly focusing on the underlying biological and molecular mechanisms and on the possibility to target this pathway as a new treatment strategy in HCC patients.
Conclusions
GH-IGF-SST system seems to play a role in the development and progression of HCC, although the real impact of this system, either in physiologic or pathologic conditions, on hepatocarcinogenesis is still far from being completely understood. GH-IGF-SST system might potentially represent a target for treatment of HCC. However, drugs targeting IGF pathway and SSTRs seem to be less promising than expected, although clinical trials in selected cohorts of patients or with combined treatment could give better results. Therefore, an open challenge in this field is to define whether GH-IGF-SST system is a good target for treatment in specific subgroups of HCC patients, whether there are predictive biomarkers that can help to early identify the patients potentially responsive to this treatment, and whether combined therapy with multiple drugs targeting this pathway can be more effective than drugs used as monotherapy.
Abbreviations
AFP:

alpha-fetoprotein
AKT/PKB:

protein kinase B
ALS:

acid-labile subunit protein
CSC:

cancer stem cells
CST:

cortistatin
DOX:

doxorubicin
EC:

endothelial cell
EGFR:

epidermal growth factor receptor
ERK:

extracellular signal-regulated kinases
GC:

glucocorticoid
GH:

growth hormone
GHBP:

growth-hormone binding protein
GHR:

growth hormone receptor
GHRH:

growth-hormone-releasing hormone
GR:

glucocorticoidreceptors
HCC:

hepatocellular carcinoma
HSC:

hepatic stellate cell
HSPG:

heparansulfate proteoglycans
IGF1:

insulin-like growth factor 1
IGF1R:

insulin-like growth factor 1 receptor
IGF2:

insulin-like growth factor 2
IGF2R:

insulin-like growth factor 2 receptor
IGFBP:

insulin-like growth factor binding protein
INS:

insulin
IR:

insulin receptor
IRS:

insulin receptor substrate
JAK:

janus kinase protein
KC:

Kupffer cell
LAR:

long-acting release
LDL:

low-density lipoprotein
LPL:

lipoprotein lipase
LVPs:

lipoviroparticles
MAPK:

mitogen-activated protein kinase
MTA1:

metastatic
mTOR:

mammalian target of Rapamycin
NAFLD:

non-alcoholic fatty liver disease
NET:

neuroendocrine tumours
PARP:

poly ADP-ribose polymerase
PBMC:

peripheral blood mononuclear cells
PET:

positron emission tomography
PI3K:

phosphatidylinositol 3-Kinase
QoL:

quality of life
Rb:

retinobloastoma gene
SA:

somatostatin analogue
SR:

slow release
SST:

somatostatin
SSTR:

somatostatin receptor
STAT:

signal transducers and activators of transcription
TACE:

transarterial chemoembolisation
TGF:

transforming growth factor
TNF:

tumour necrosis factor
VEGF:

vascular-endothelial growth factor
VLDL:

very-low-density.
Declarations
Acknowledgements
Dr Renata Simona Auriemma provided support of knowledge about clinical use of SA.
Funding
This study was in part supported by the grant from the Italian Ministry of Education, Research and University: FIRB RBAP11884M.
Authors' Affiliations
(1)
Dipartimento di Medicina Clinica e Chirurgia, Università Federico II di Napoli, Naples, Italy
(2)
IRCCS Fondazione SDN, Naples, Italy
(3)
National Cancer Institute G Pascale Foundation, Naples, Italy
Copyright
© Pivonello et al.; licensee BioMed Central Ltd. 2014
This article is published under license to BioMed Central Ltd. This is an Open Access article distributed under the terms of the Creative Commons Attribution License (http://creativecommons.org/licenses/by/2.0), which permits unrestricted use, distribution, and reproduction in any medium, provided the original work is properly credited.