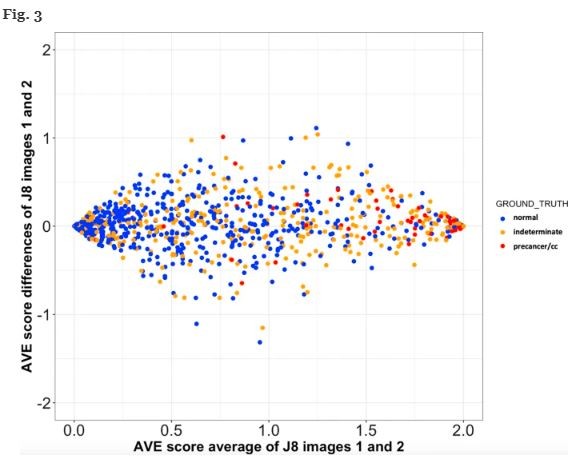 WHO has recommended HPV testing for cervical screening where it is practical and affordable. If used, it is important to both clarify and implement the clinical management of positive results. We estimated the performance in Lusaka, Zambia of a novel screening/triage approach combining HPV typing with visual assessment assisted by a deep-learning approach called automated visual evaluation (AVE).
In this well-established cervical cancer screening program nested inside public sector primary care health facilities, experienced nurses examined women with high-quality digital cameras; the magnified illuminated images permit inspection of the surface morphology of the cervix and expert telemedicine quality assurance.
HPV type, AVE classification, and the 12-level risk scale all were strongly associated with degree of histologic outcome. The AVE classification showed good reproducibility between replicates, and added finer predictive accuracy to each HPV type group. Women living with HIV had higher prevalence of pre-cancer/cancer; the HPV-AVE risk categories strongly predicted diagnostic findings in these women as well.
In this article data support that a combination of HPV typing and automated visual evaluation (AVE) could accurately distinguish women at different risks of cervical pre-cancer/cancer.