Disruption of Bcl-2 and Bcl-xL by viral proteins as a possible cause of cancer
Infectious Agents and Cancer
2014
9:44
Received: 23 September 2014
Accepted: 25 November 2014
Published: 23 December 2014
Abstract
The Bcl proteins play a critical role in apoptosis, as mutations in family members interfere with normal programmed cell death. Such events can cause cell transformation, potentially leading to cancer. Recent discoveries indicate that some viral proteins interfere with Bcl proteins either directly or indirectly; however, these data have not been systematically described. Some viruses encode proteins that reprogramme host cellular signalling pathways controlling cell differentiation, proliferation, genomic integrity, cell death, and immune system recognition. This review analyses and summarises the existing data and discusses how viral proteins interfere with normal pro- and anti-apoptotic functions of Bcl-2 and Bcl-xL. Particularly, this article focuses on how viral proteins, such as Herpesviruses, HTLV-1, HPV and HCV, block apoptosis and how accumulation of such interference predisposes cancer development. Finally, we discuss possible ways to prevent and treat cancers using a combination of traditional therapies and antiviral preparations that are effective against these viruses.
Keywords
Bcl-2Bcl-xLHerpesvirusesHuman T-lymphotropic virus 1Human papillomavirusHepatitis C virusApoptosisSignaling pathwaysTumor suppressor genesCancer
Introduction
All cancers, together, comprise the second most prevalent cause of mortality worldwide. The development of strategies aimed at prevention and treatment to manage this disease critically depends on the understanding of cancerous cells and the mechanisms through which they arise [1]. It is becoming increasingly apparent that several viruses play significant roles in the multistage development of malignant cancers, where the correlation of a given virus with an associated cancer can range from 15-100% [1].
The human body naturally produces and destroys approximately 60 billion cells daily, and proper homeostasis is achieved by strict control of cell turnover [2]. Programmed cell death, or apoptosis, is an essential mechanism for regulation of tissue homeostasis, immune system functions, and embryo development, while abnormal and uncontrolled cell death is a major contributing factor to several diseases and tumorigenesis [3].
Bcl family proteins are key players in cell clearance. Therefore, when Bcl proteins are defective, it may lead to cancer initiation and promotion [3]. In fact, Bcl-2 was the first apoptotic regulator to be identified. In this case, the oncoprotein was activated via chromosome translocation (14:18 chromosome translocation) leading to human follicular lymphoma [3]. The role of the Bcl family in normal cells is to regulate apoptosis by inducing or inhibiting cell death according to environmental stimuli. Within the Bcl family, all anti-apoptotic Bcl-2 homologues function as oncoproteins, while pro-apoptotic and BH3-only proteins act as tumour suppressors.
Bcl proteins form homo- and heterodimers, which explains the neutrelising competition between these proteins. Each protein contains up to four conserved BH domains, which are alpha-helical segments that mediate interactions with other proteins [4]. The hydrophobic, C–terminal domain of these proteins localises them to intracellular membranes, such as the outer mitochondrial membrane, the endoplasmic reticulum, and the nuclear envelope [4]. It is hypothesised that anti-apoptotic proteins are initially integrated into membranes, while pro-apoptotic members are found in the cytosol. Only after receiving an apoptotic stimulus, pro-apoptotic Bcl proteins undergo a conformational change and are translocated into the mitochondrial membrane where anti-apoptotic proteins already reside [5–7].
In total, the Bcl family includes more than 25 members in mammalian cells [
8
], which function as a 'life/death switch' that integrates diverse inter- and intracellular cues to determine whether or not the stress apoptosis pathway should be activated. The intrinsic apoptosis pathway is controlled by the Bcl family (Figure
1
) [
9
]. In response to apoptotic stimuli, the balance and interactions of anti-apoptotic and pro-apoptotic Bcl proteins influence the activation of downstream pro-apoptotic proteins Bak (Bcl-2 homologous antagonist/killer) and Bax (Bcl-2-associated X protein) [
10
]. In an activated state, Bak and Bax change conformation and penetrate the mitochondrial outer membrane leading to cell death [
11
]. It is not fully understood how Bcl-2 regulates this mitochondrial pathway, except that Bcl-2 blocks the permeability of the mitochondrial outer membrane, preventing the release of cytochrome c and other pro-apoptotic proteins, which in turn activate proteases and caspases (Figure
1
) [
11
,
12
].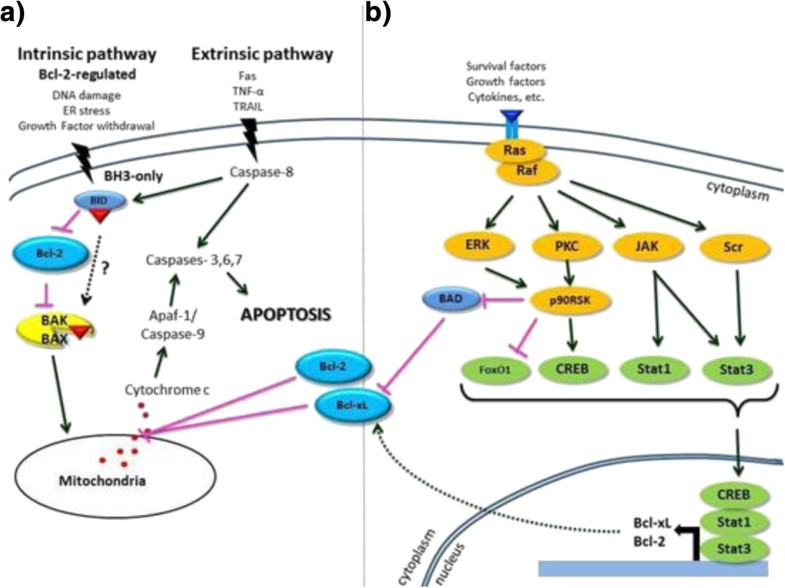 Upon viral infection, apoptosis plays a crucial role in host defense mechanisms. One of the more successful mechanisms used by viruses is the prevention of apoptosis in the virally-infected host cells. It is presumed that viruses have adapted the mechanism of inhibiting cell death in the host cell through Bcl-2 homologues, thus initiating their own survival in the host [13, 14]. We further analysed how viruses and their proteins interfere with the normal pro- and anti-apoptotic functions of Bcl-2 and Bcl-xL, propose possible treatment approaches to affect etiology of viral disease, which target pathological proteins and pathways, and discuss how this can be used in anti-cancer therapy.
Conclusion
The Bcl-2 family has emerged as a dominant regulator of apoptosis in cancer cells. The mitochondrial-mediated apoptosis pathway is regulated by anti-apoptotic and pro-apoptotic (Bad, Bax, and Bak) proteins. Defects in apoptosis signaling directly contribute to tumorigenesis; therefore, the Bcl proteins are very important players in apoptosis. By affecting Bcl proteins or their expression levels, viruses benefit in many ways, such as inhibiting normal programmed cell death in host cells, which propagates infection. In this review, we have outlined the mechanisms by which viral proteins exploit or mimic the Bcl-2 family. We have focused on how Herpesviruses, HTLV-1, HPV and HCV take advantage of various pathways to block apoptosis, predisposing cells for malignant cancer phenotype. To counteract this, we have proposed possible therapeutics against viral infection, which have the potential to eliminate Bcl-induced carcinogenesis. Finally, we speculate to what extent treating viral infections may advance cancer treatment.
Abbreviations
Bak:

Bcl-2 homologous antagonist/killer
Bax:

Bcl-2-associated X protein
EBV:

Epstein-Barr virus
LMP-1:

Latent membrane protein 1
LMP-2A:

Latent membrane protein 2A
EBER-1:

EBV encoded small RNAs-1
EBER-2:

EBV encoded small RNAs-2
BARF1:

BamHI-A Reading Frame −1
BZLF1:

BamHI Z fragment leftward open reading frame 1
BHRF1:

BamHI-H right reading frame 1
PTLD:

Post-transplantation lymphoproliferative disease
BIM:

Bcl-2 interacting mediator of cell death
PUMA:

p53 upregulated modulator of apoptosis
BID:

BH3 interacting domain death agonist
HCMV:

Human cytomegalovirus
HHV-5:

Human herpesvirus-5
HSV:

Herpes simplex virus
IE:

Immediate early
vMIA:

Viral mitochondria-localised inhibitor of apoptosis
GPCRs:

G protein-coupled receptors
KSHV:

Kaposi's sarcoma-associated herpesvirus
HHV-8:

Human herpesvirus-8
ORFs:

Open reading frames
v-cyclin:

Viral cyclin
HPV:

Human papillomavirus
EGFR:

Epidermal growth factor receptor
Cox-2:

Cyclooxygenase-2
HTLV-1:

Human T-cell leukaemia virus
ATLL:

Adult T-cell leukaemia/lymphoma
Tax:

Transactivator protein X
BAG4:

Bcl-2-associated athanogene 4
HCV:

Hepatitis C virus
HCC:

Hepatocellular carcinoma
INFs:

Interferons
IRFs:

Interferon regulatory factors
ISGs:

Interferon stimulated genes
STATs:

Signal transducers and activators of transcription
STAT3:

Signal transducer and activator of transcription 3
NS5A:

Non-structural protein 5A
FKBP38:

FK506-binding protein 38
MDM2:

Murine double minute 2
LANA:

Latency-associated nuclear antigen
PEL:

Primary effusion lymphoma
VEGF:

Endothelial growth factor
Foetal liver kinase-1:

Flk–1/KDR
TRAIL:

TNF-related apoptosis-inducing ligand.
Declarations
Acknowledgements
We thank PI NURIS at Nazarbayev University for financial support.
Authors' Affiliations
(1)
Nazarbayev University Research and Innovation System (NURIS), Nazarbayev University, Astana, Kazakhstan
(2)
National Medical Holding, Astana, Kazakhstan
(3)
School of Science and Technology, Nazarbayev University, Astana, Kazakhstan
Copyright
© Alibek et al.; licensee BioMed Central. 2014
This article is published under license to BioMed Central Ltd. This is an Open Access article distributed under the terms of the Creative Commons Attribution License (http://creativecommons.org/licenses/by/4.0), which permits unrestricted use, distribution, and reproduction in any medium, provided the original work is properly credited. The Creative Commons Public Domain Dedication waiver (http://creativecommons.org/publicdomain/zero/1.0/) applies to the data made available in this article, unless otherwise stated.