Dissecting the mechanisms and molecules underlying the potential carcinogenicity of red and processed meat in colorectal cancer (CRC): an overview on the current state of knowledge
Infectious Agents and Cancer
2018
13:3
Received: 11 October 2017
Accepted: 2 January 2018
Published: 15 January 2018
Abstract
Meat is a crucial nutrient for human health since it represents a giant supply of proteins, minerals, and vitamins. On the opposite hand, the intake of red and processed meat is taken into account dangerous due to its potential of carcinogenesis and cancer risk improvement, particularly for colorectal cancer (CRC), although it has been reported that also the contaminations of beef infected by oncogenic bovine viruses could increase colorectal cancer's risk. Regarding the mechanisms underlying the potential carcinogenicity of red and processed meat, different hypotheses have been proposed. A suggested mechanism describes the potential role of the heterocyclic amines (HACs) and polycyclic aromatic hydrocarbons (PHAs) in carcinogenesis induced by DNA mutation. Another hypothesis states that heme, through the lipid peroxidation process and therefore the formation of N-nitroso compounds (NOCs), produces cytotoxic and genotoxic aldehydes, resulting in carcinogenesis. Furthermore, a recent proposed hypothesis, is based on the combined actions between the N-Glycolylneuraminic acid (Neu5Gc) and genotoxic compounds. The purpose of this narrative review is to shed a light on the mechanisms underlying the potential carcinogenicity of red and processed meat, by summarizing the data reported in literature on this topic.
Keywords
CarcinogenesisRed meatProcessed meatHemeHeterocyclic aminesPolycyclic aromatic hydrocarbonsNeu5Gc
Background
Meat is an important nutrient for human health, since it represents a big source of proteins, minerals and vitamins with poor bioavailability. Red and processed meats, instead, are considered dangerous, due to their potential carcinogenicity. Red meat is a form of unprocessed mammalians muscle, which color is due to the presence of myoglobin [
1
,
2
]. On the other facet, processed meat is identified as a product obtained through several processes such as salting, curing, fermentation or smoking, with the aim of enhancing flavor or improve preservation. Recently, the International Agency for Research on Cancer (IARC) published interesting results on the potential carcinogenicity effects of red and/or processed meat;
Bouvard
et al. [
3
] anticipated these data and showed that the processed meat is classified as carcinogenic to human (Group 1), while the red meat is identified as probably carcinogenic to human (Group 2A) (Fig.
1
)
. On the basis of this classification, and from knowledge emerged by epidemiological studies, the intake of meat as a nutrient of a healthy diet for human, has to become a controversial issue [
4
]. Accumulating studies showed that the consumption of processed meat causes colorectal cancer (CRC), the second most common cause of cancer-related death in affluent countries, and stomach cancer, although the evidences for this latter are still not enthusiastic.
Chan
et al. [
5
] proved evidence that dietary factors, as well as red and processed meat, may be thought of the leading causes of 80% CRC cases. Similar results, obtained by epidemiological studies accumulated over the last decades, confirmed the association of red and processed meat intake and increased risk of CRC [
6
–
9
]. Interestingly,
Zu Hausen
et al., suggested that potentially oncogenic thermoresistant bovine viruses, by inducing beef's contaminations provoked infections in the colorectal tract, that combined to chemical carcinogens developed during procedures of cooking, increased the colorectal cancer's risk [
10
]. The role of red meat consumption as a leading cause of different types of cancer (e.g. pancreatic cancer, prostate cancer, bladder cancer) has been conjointly reported [
11
–
16
], although extremely mentioned and contested by the scientific community, since a recent meta-analysis indicated a significantly increased risk (about 22%) of bladder cancer as a result of high processed meat (but not for red meat) consumption [
17
]. Additionally, in another meta-analysis,
Bylsma and Alexander
concluded that there was no association between red or processed meat intake and prostate cancer, although they found a weak positive summary estimate for processed meats [
18
]. A detailed summary of recent epidemiological studies on carcinogenicity of consumption of red and processed meat in different types of cancer, including colorectal cancer (CRC), has been recently reported by
Domingo
et al. [
19
] whereas
Alexander
et al. published a quantitative update on the epidemiological research on the topic [
20
]. Several molecules have been identified as potential carcinogenic present in red meat or produced by meat processing or by cooking procedure: i) the heterocyclic amines (HACs), as -Amino-3,4- dimethylimidazo quinolone (MeIQ) and 2-Amino-3,8-dimethylimidazo quinoxaline (MeIQx), ii) the N-nitroso-compounds (NOCs), as N-nitrosodimethylamine (NDMA); iii) the polycyclic aromatic hydrocarbons (PAHs), as benzo[a]pyrene (BaP) [
17
,
21
]; iv) the N-glycolylneuraminic acid (Neu5Gc) [
22
]. In addition, the carcinogenic role of environmental pollutants (e.g., polychlorinated dibenzo-pdioxins and dibenzofurans, polychlorinated biphenyls, polybrominated diphenyl and polychlorinated diphenyl ethers, polychlorinated naphthalene and perfluoroalkyl substances), which are already present in raw or unprocessed meat, has been also proposed [
19
]. Furthermore, the carcinogenic role of red and processed meat could be enhanced by other concomitant dietary factors (e.g., high fat and/ or protein intake) and clinical conditions, such as obesity [
23
,
24
]. It is of note that bile acids produced in the gut as a consequence of high fat intake, by damaging the mucosa and the epithelium of colon, leads to cell hyper-proliferation and then to colon cancer development [
25
]. Despite studies on animal models supporting the cancer-promoting effect induced by high fat intake [
26
], epidemiological studies reported opposite results [
27
,
28
]. Similarly, a high protein intake provokes the formations of metabolites toxic with a great potential of colon carcinogenesis [
29
], although no data supporting this hypothesis, are available [
30
]. Others alternative and uncertain hypothesis of mechanisms (e.g., thermoresistant potentially oncogenic bovine viruses [
10
] and endogenous hormones, [
31
]) underlying the consumption of red and processed meat and carcinogenesis of CRC, have been reported in the literature and reviewed by
Demeyer
et al. [
32
]. Our aim is to review the data reported in the literature on the principal mechanisms and molecules involved in carcinogenicity induced by red and processed red meat consumption in CRC, in order to shed a light on the current state of the art on this important issue.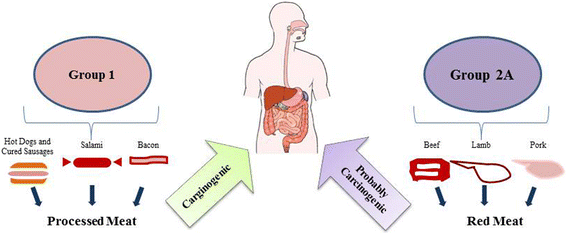 Mechanisms and molecules involved in the carcinogenicity induced by consumption of red and processed meat
The biological reasons for the association between red and processed meat and cancer- especially CRC- are still unclear, but a large number of molecular mechanisms have been proposed to explain this association. Here, we summarize the most relevant ones, trying to elucidate the current state of scientific knowledge.
Conclusion
In 2015 the IARC classified the consumption of red meat and processed meat as "probably carcinogenic to humans" (Group 2A), and as "carcinogenic to humans" (Group 1), respectively. A large number of mechanisms have been proposed to elucidate the link between red and processed intake and CRC risk. These mechanisms involve different molecules: i) heme iron, ii) NOCs, iii) HCAs and PAHs; iv) Neu5G, although convincing results have been reported for heme (via lipid peroxidation mechanism) and endogenous NOC. Taking into the account that different compounds could also be present in red and processed red meat, the increased risk for CRC could also be related to multiple carcinogenic compounds (Fig.
4
). More studies are going to be necessary to elucidate the molecular mechanisms underlying the carcinogenicity of red meat and processed meat in CRC and other types of cancer.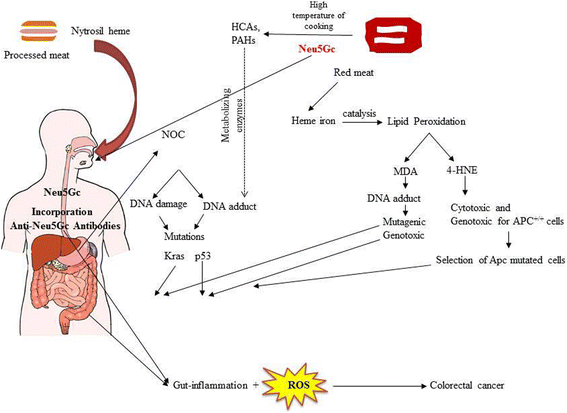 Abbreviations
(Neu5Gc):

N-Glycolylneuraminic acid
(NOCs):

N-nitroso compounds
4-HNE:

4-hydroxy-2-nonenal
Bap:

Benzo[a]pyrene
CRC:

Colorectal cancer
HCAs:

Heterocyclic amines
IQ:

Amino-3-methylimidazo[4,5 f]quinolone (IQ)
M1dg:

1,N2-malondialdehyde-deoxyguanosine
MeIQ:

amino-3,4-dimethylimidazo[4,5-f] quinolone
MeIQx:

2–Amino-3,8-dimethylimidazo-[4,5f]quinoxaline
NDBA:

N-nitrosodibutylamine
NDEA:

Nnitrosodiethylamine
NDMA:

N-nitrosodimethyamine
NDPhA:

N-nitrosodiphenylamine
NMOR:

N-nitrosomorpholine
NPIP:

N-nitrosopiperidine
NPRO:

N-nitrosoproline
NPYR:

N-nitrosopyrrolidine
NSAR:

N-nitrososarcosine
O6CMeG:

O6-carboxymethyl-2′-deoxy-guanosine
PHAs:

Polycyclic aromatic hydrocarbons
PhIP:

2-Amino-1-methyl6 phenylimidazo[4,5b]pyridine
ROS:

Reactive oxygen species
Declarations
Acknowledgements
We are grateful to Dr. Alessandra Trocino, Mrs. MariaCristina Romano and Mr. Massimiliano Spinelli from the National Cancer Institute of Naples for providing excellent bibliographic service and informatics assistance.
Funding
No funds were used for the preparation of the paper.
Availability of data and materials
The data and materials are available in the main manuscript.
Authors' contributions
MC, and SB, are the main authors of the manuscript. All authors read and approved the final manuscript.
Ethics approval and consent to participate
Not applicable.
Consent for publication
Not applicable.
Competing interests
The authors declare that they have no competing interests.
Publisher's Note
Springer Nature remains neutral with regard to jurisdictional claims in published maps and institutional affiliations.
Open AccessThis article is distributed under the terms of the Creative Commons Attribution 4.0 International License (http://creativecommons.org/licenses/by/4.0/), which permits unrestricted use, distribution, and reproduction in any medium, provided you give appropriate credit to the original author(s) and the source, provide a link to the Creative Commons license, and indicate if changes were made. The Creative Commons Public Domain Dedication waiver (http://creativecommons.org/publicdomain/zero/1.0/) applies to the data made available in this article, unless otherwise stated.
Authors' Affiliations
(1)
Division of Anesthesia and Pain Medicine, Istituto Nazionale Tumori - IRCCS – "Fondazione G. Pascale", Naples, Italy
(2)
S.S.D. Sperimentazione Animale, Istituto Nazionale Tumori - IRCCS - Fondazione "G. Pascale", Naples, Italy
(3)
Division of Anesthesia and Intensive Care, Hospital "Pineta Grande", Caserta, Italy
(4)
Division of Radiology, "Istituto Nazionale Tumori - IRCCS - Fondazione G. Pascale", Naples, Italy