MYC chromosomal aberration in differential diagnosis between Burkitt and other aggressive lymphomas
Infectious Agents and Cancer
2013
8:37
Received: 21 June 2013
Accepted: 17 September 2013
Published: 30 September 2013
Abstract
Myc oncogenetic deregulation is abundantly described in several solid human cancer and lymphomas. Particularly, Burkitt's lymphoma belongs to the family of B Non Hodgkin aggressive lymphomas. Although it is morphologically characterized, immunophenotypic and cytogenetic diagnosis remains complex. In 2008, the WHO has introduced a new diagnostic class of aggressive B-cell lymphomas with features intermediate between BL and DLBCL. This diagnostic class represents a temporary container of aggressive B-cell lymphomas, not completely belonging to the BL and DLBCL categories. The importance of establishing a correct diagnosis would allow a better prognostic classification and a better therapeutic approach. In this review, we summarize the main diagnostic approaches necessary for appropriate diagnoses and we emphasize the importance of cytogenetic analysis of the oncogene Myc in the histopathological diagnosis and the prognostic/predictive stratification. In this contest, Myc represents the more involved gene in the development of these lymphomas. Therefore, we analyze the genetic aberrations causing its over-expression and the concomitant deregulation of molecular pathways related to it. We also propose a FISH approach useful in the diagnosis of these lymphomas.
Keywords
Burkitt LymphomaFISHMYCAggressive non-Hodgkin B-cell lymphomaDiffuse large B cell lymphomaB-cell lymphoma unclassifiable
Introduction
Chromosomal translocations involving the immunoglobulin genes are common in B-cell non-Hodgkin lymphomas [1, 2]. Some translocations are characterizing specific lymphoma histotypes and are often considered as cancer-initiating events [3]. For instance, t(8;14)(q24;q32), that involves Myc and IgH genes, is generally considered a hallmark of Burkitt Lymphoma (BL), but this translocation is not the only cytogenetic alteration observed in this type of lymphoma. BL is an aggressive non-Hodgkin B-cell lymphoma (B-NLH) characterized by the most rapidly growing cells [4]. It represents the first human tumor associated to a specific viral infection and one of the first with a chromosomal rearrangement activating an oncogene [5, 6]. Recent evidence suggests that lipid pathway is altered in BL. Indeed neoplastic cells are characterizated by the accumulation of lipid vacuoles [7]. Conventionally three clinical variants of BL have been described: endemic (eBL), sporadic (sBL) and HIV–related [8]. Histologically BL shows a "starry sky" appearance, due to death cells and scattered tingible-body-laden macrophages present in monomorphic B-cell population background and a high proliferation rate is always demonstrated [4]. Although these morphological characteristics are observed in the BL, in adults a reliable diagnosis is very difficult to produce, since a subset of lymphomas with morphological features similar to BL are described [9]. Particularly differential diagnosis from some cases of diffuse large B cell lymphoma (DLBCL) and from B-cell lymphoma, unclassifiable, often results difficult. Even with the use of current diagnostic criteria, the distinction is not precise; in fact the agreement among expert hematopathologists on the pathological diagnosis of this subset of aggressive B lymphomas is only 53 percent [10, 11]. The distinction between BL and DLBCL is clinically important, because these lymphomas are treated with different chemotherapeutic protocols and differ in their outcome [12].
Adult BL shows a rapdly developing disease, so diagnosis and staging are urgent because aggressive high-dose chemo-therapy should be started as soon as possible. Aggressive prophylaxis must be started immediately after diagnosis is confirmed [13]. However the interpretation of response is difficult because there isn't a single protocol [14]. In addition recently Rituximab has also been introduced for treatment of BL and B aggressive lymphomas [15].
Conclusion
Diagnostic algorithms
Detection of the Myc translocation is currently performed by conventional cytogenetics, Southern blot, and polymerase chain reaction–based methods. Nevertheless, all these methods can fail to detect IG-M yc fusions [65]. The most reliable method is cytogenetic analysis by fluorescence in situ hybridization (FISH). Nowadays the molecular genetics is fully integrated into the routine diagnostic of lymphomas. The Gold standard method is the CGH Array but this analysis has not been introduced into routine diagnostic laboratories because it is labour-intensive and it has a high rate of failure [29]. Thus in the future, the development of a FISH assay for simultaneous detection of all known Burkitt abnormalities will be necessary.
We summarized a cytogenetic diagnostic "flowchart" for a better and safer histopathologic diagnosis of Burkitt (Figure
4
). We recommend a first FISH approach using
Myc
Break Apart probe on lymphoma cases with increased (>90%) Ki67, to identify all positive samples for
Myc
translocations. BCL2 and BCL6 translocations using Break Apart probes will be performed on all negative samples. Finally on the positive specimens should evaluate also the presence of
IG-Myc
translocation through the use of a Dual colour dual fusion
Myc-IGH
probe and
IGK
and
IGL
Break Apart probes. Then,
BCL2
and
BCL6
status should be investigated. In our opinion, this is the best approach to avoid misdiagnosis of molecular BL but it is useful only if it is integrated with morphologic and immunophenotypic evaluation. The diagnosis of BL and other aggressive B cell Lymphomas, with or without
Myc
breakpoints, represents an important start-point for future clinical trials to establish different therapeutical strategies for these lymphomas. Although the FISH-based algorithmic approach results an important tool for BL diagnosis, it is not easily accessible in most of the pathology laboratories because it is an expensive method and so it remains a speculative analysis.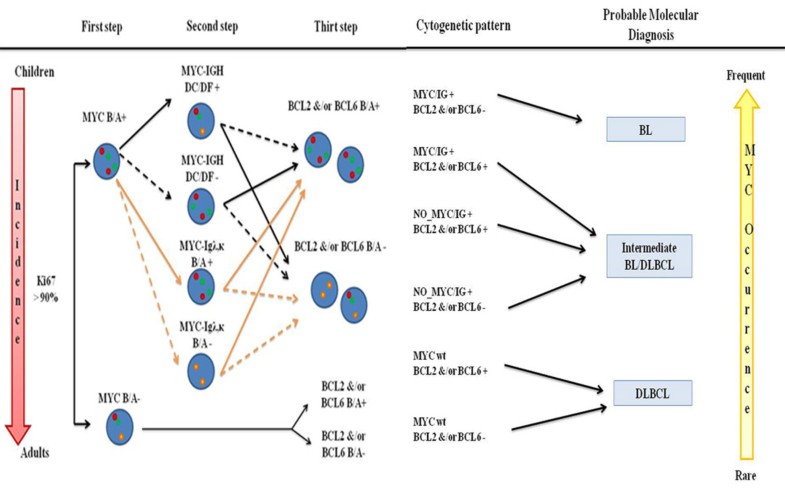 Authors' Affiliations
(1)
Pathology Unit, "Istituto Nazionale Tumori Fondazione G. Pascale" - Irccs, Naples, Italy
(2)
Medicine and Surgery Department, Foggia University, Foggia, Italy
(3)
Haematology Unit, "Istituto Nazionale Tumori Fondazione G. Pascale" - Irccs, Naples, Italy
Copyright
© Aquino et al.; licensee BioMed Central Ltd. 2013
This article is published under license to BioMed Central Ltd. This is an Open Access article distributed under the terms of the Creative Commons Attribution License (http://creativecommons.org/licenses/by/2.0), which permits unrestricted use, distribution, and reproduction in any medium, provided the original work is properly cited.