Bovine papillomavirus E5 and E7 oncoproteins in naturally occurring tumors: are two better than one?
Infectious Agents and Cancer
2013
8:1
Received: 5 October 2012
Accepted: 7 January 2013
Published: 9 January 2013
Abstract
Bovine papillomaviruses (BPVs) are oncogenic DNA viruses, which mainly induce benign lesions of cutaneous and/or mucosal epithelia in cattle. Thirteen (BPV 1–13) different viral genotypes have been characterized so far. BPVs are usually species-specific but BPV 1/2 may also infect equids as well as buffaloes and bison and cause tumors in these species. BPV-induced benign lesions usually regress, however occasionally they develop into cancer particularly in the presence of environmental carcinogenic co-factors. The major transforming protein of BPV is E5, a very short hydrophobic, transmembrane protein with many oncogenic activities. E5 contributes to cell transformation through the activation of the cellular β receptor for the platelet-derived growth factor (PDGFβ-r), it also decreases cell surface expression of major histocompatibility complex class I (MHCI) causing viral escape from immunosurveillance, and plays a role in the inhibition of the intracellular communication by means of aberrant connexin expression. E7 is considered as a weak transforming gene, it synergies with E5 in cell transformation during cancer development. E7 expression correlates in vivo with the over-expression of β1-integrin, which plays a role in the regulation of keratinocytes proliferation and differentiation. Additionally, E7 is involved in cell-mediated immune responses leading to tumour rejection, in anoikis process by direct binding to p600, and in invasion process by upregulation of Matrix metalloproteinase1 (MMP-1) expression. Studies on the role of BPV E5 and E7 oncoproteins in naturally occurring tumours are of scientific value, as they may shed new light on the biological role of these two oncogenes in cell transformation.
Keywords
Bovine papillomavirusCowE5E7EquidsPapillomasSarcoidViral oncogenes
Introduction
Papillomaviruses (PVs) are small oncogenic DNA viruses infecting humans as well as different animal species, causing benign hyperproliferative lesions of both mucosal and cutaneous epithelia or malignant cancers. BPVs belong to the PV family and infection of bovines by BPVs is associated with the development of cutaneous papillomas, alimentary and urinary bladder tumours. BPVs are usually species-specific, and, even in experimental conditions, do not infect any host other than the natural one. However, BPV type 1 (BPV-1) and BPV type 2 (BPV-2) represent a well known case of cross-species infection since they also infect equids as well as buffaloes and bisons [1–4]. BPV-induced benign lesions usually regress, however occasionally they develop into cancer of both epithelial and mesenchymal origin. The major transforming protein of BPV is E5, a very small membrane-associated protein with potent biological activities [5]. The carcinogenic functions of E5 have been largely investigated in vitro, however many recent findings have highlighted the role of this oncoprotein also in naturally occurring oncogenesis.
BPV E7 is considered as a transforming gene although very little is known about E7-mediated mechanisms underlying carcinogenesis, so far. It has been hypothesized that BPV-E7 cooperates with E5 in cell transformation [6].
BPV has largely contributed as animal model to understand the genetics of PVs, the role of the early genes in cell transformation and still continues to do so due to very recent discoveries in naturally occurring equine and bovine tumours [7].
Furthermore, spontaneously arising BPV induced tumors are of interest not only in veterinary pathology but also from a comparative point of view. BPV E5 and E7 oncogenes have been studied at length up-to-date opening new scenarios about the possible role of these oncogenes in PV-induced cell transformation.
This review, will describe in brief the biological features of BPV E5 and E7 oncoproteins and will focus on the activity and the expression patterns of the two oncoproteins in vivo in naturally occurring bovine and equine tumours.
BPV oncoproteins: general biological characteristics
All PVs have a circular double-stranded DNA genome. The genetic organisation of BPVs is similar to that of other PVs. The open reading frames (ORFs) are divided into early and late regions. The early region encodes non structural proteins from E1 to E7. The late region encodes two structural proteins: L1 and L2. In addition, a non-coding long control region provides the cis-regulatory elements necessary for viral replication and transcription [8]. The transforming activities of BPVs are due to three early viral genes: E5, E6, and E7. The specific contribution of each oncogene in transforming process varies between different BPVs. Some BPVs (BPV-3,-4,-6) lack the E6 gene, although they are able to give a successful infection and to induce tumours [9].
Despite the clear evidence that E6 is an efficient transforming protein in vitro[10, 11], the activity of E6 in vivo in naturally occurring tumours still remains uncertain and needs to be investigated.
The growing body of recent studies in vivo highlights the central role of E5 and E7 expression/activity in tumour development strengthening the focus of this review.
E5 oncogene
The major transforming protein of BPV is E5, a very small, membrane associated protein with different biological activities and critical to the transformation process [5, 12, 13]. BPV-1 E5 is the shortest oncoprotein yet characterized being only 44-aminoacid long [12, 14, 15]. Genetic and biochemical studies have revealed that the E5 protein can be divided into two distinct domains: an amino-terminal domain (residues 1–32), consisting of strongly hydrophobic aminoacid residues and a single hydrophilic aminoacid, and an hydrophilic carboxyl-terminal domain (residues 33–44). The hydrophobic domain is presumed to mediate the association with cellular membranes and to function as a signal-anchor domain whereas the hydrophilic domain is believed to interact with important cellular regulatory proteins [16]. In accordance with its predicted hydrophobic composition, the E5 protein spontaneously localizes in the membranous compartment where it is present as a dimer. The C-terminal domain is involved in E5 dimer and oligomer formation. Oligomerization appears to be essential for the transforming activity [12, 17]. E5 accumulation in the late (trans-) Golgi apparatus (GA) is critical for its mitogenic signalling. Retention of E5 in the ER and early (cis-) Golgi causes loss of transformation activity [18]. Mutagenesis analysis underscore the critical role of individual aminoacid residues in mediating E5 biological activities. Several studies indicate that the hydrophobic nature of BPV E5 and a handful of important aminoacidic residues confer transforming activity [17]. These essential aminoacids are the most well conserved among related papillomaviruses [19].
E5 induces cell transformation through the activation and/or impairing of several intracellular targets involved in cell proliferation and survival [5].
E7 oncogene
The BPV-1 E7 oncogene is a zinc binding protein 127 aminoacids long. E7 does not show a strong independent transforming activity, but when it is coexpressed with E5, its transformation capacity is pronouncedly increased [6]. Mutants lacking the E7 open reading frame are still able to induce transformation but with lower efficiency [20]. It is not clear how BPV-1 E7 contributes to cell transformation as this oncoprotein, in contrast to HPV-E7, lacks the LXCXE motif that mediates the binding to the pRB family proteins [21]. It has been reported that the transformation activity of BPV-1 E7 is mediated, at least in part, by its ability to bind p600. The binding between BPV-1 E7 and p600 contributes to cell transformation by inhibiting the anoikis, a type of apoptosis, which is commonly encountered in cancer cells, allowing them to survive in the absence of normal cell-matrix interactions [22]. In addition, BPV-1 E7 seems to sensitize the cells to TNF-induced apoptosis [23, 24]. On the contrary E7 is the major transforming protein of BPV-4 as defined in in vitro systems [25, 26]. BPV-4 E7 contains two Cys-X-X-Cys motif and the pRb-binding domain, both are critical for its transforming activity [25].
Most of the studies on BPVs have been performed in in vitro systems where the biological characteristics and functions of BPV oncoproteins have been largely investigated, however the functions of BPV oncoproteins in vivo are less understood. Recent insights into E5 and E7 biological activities strenghten the pivotal role of these oncoproteins in cell transformation in naturally occurring tumours.
BPV E5 and E7 in naturally occurring tumours
BPV infection is associated to cutaneous papillomas, alimentary fibropapillomas and urinary bladder tumours in cattle and to sarcoids in equids.
Conclusions
PVs induced cell transformation is paradigmatically based on the different contribution of the three viral oncogenes E5, E6, and E7 affecting multiple cellular pathways.
Most of the studies about PV induced oncogenesis and the role of the viral oncogenes have firstly been recognized in the BPV model system and later validated for HPV.
The expression and functions of BPV E5 and E7 oncoproteins have been largely investigated in naturally occurring tumours (Figure
2
) with E5 being the major oncogene. Recent studies about the functions of E5
in vivo
have on the one hand confirmed
in vitro
studies, on the other hand have discovered new aspects.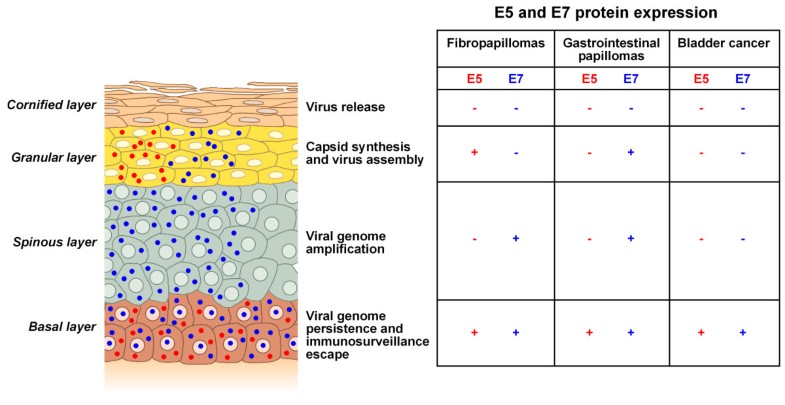 The role of BPV E7 in cellular transformation has been less investigated. To date,
in vivo
studies suggest a synergism between E5 and E7: they cooperate in the BPV infection establishment and persistence as well as in controlling cell proliferation and transformation processes (Figure
3
), suggesting that "two are better than one" in naturally occurrying carcinogenesis.

Finally, in vivo studies about the expression and functions of BPV oncoproteins in experimentally PV-induced tumours are still relevant to better understand the oncogenic potential of the virus and to gain new insights into the interplay between PVs oncogenes.
Declarations
Acknowledgments
The authors are grateful to Prof. Annamaria Lamarra at Centro Linguistico di Ateneo, University of Naples Federico II, for her editing of the manuscript. This work was supported by a grant from Ministero Istruzione Università e Ricerca Scientifica (MIUR): PRIN 2008: Meccanismi di cancerogenesi in neoplasie animali indotte da papillomavirus bovino- prot. N° 2008LTY389.
Authors' Affiliations
(1)
Department of Pathology and Animal Health, University of Naples Federico II, Napoli 1, Italy
Copyright
© Corteggio et al.; licensee Biomed Central Ltd. 2013
This article is published under license to BioMed Central Ltd. This is an Open Access article distributed under the terms of the Creative Commons Attribution License (http://creativecommons.org/licenses/by/2.0), which permits unrestricted use, distribution, and reproduction in any medium, provided the original work is properly cited.